QBank Powers Advanced
Social Media

Publishing Solutions

At QBank, we provide a dynamic SaaS to enhance interactions between global brands and consumers on various platforms. Modern business strategies increasingly include social media publishing tools in strategic brand marketing. Users may easily navigate an intuitive dashboard to access and publish data files from our digital asset management (DAM) solution. Each customer may store, track, and distribute a wide range of creative elements by leveraging a customized digital library. Here are the benefits associated with using QBank DAM in social media management.
What is Social Media Publishing?
Coined to describe the frequent use of iconic social media platforms, the phrase "social media publishing" refers to how daily internet surfers publish online content, images, videos, and information to popular networks, such as Twitter, Instagram, and YouTube. From status updates to marketing promotions, these posts are driving global interactions across the web.
Operating in the cloud, QBank offers a convenient social media tool for storing millions of data files. As stakeholders across the company access the social media scheduler, managers may configure user permissions to ensure the correct employees access and distribute creative media.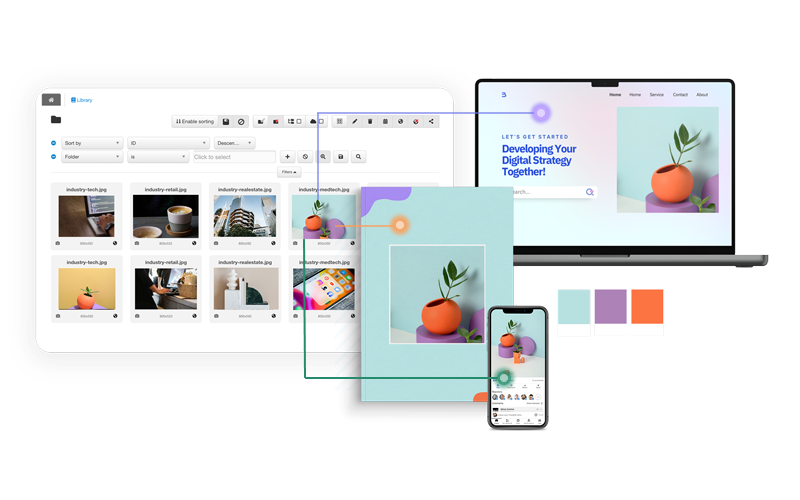 Organization
Customers may set guidelines with brand-specific templates. Customized for consistent messaging, these elements ensure global offices and divisions distribute on-brand marketing elements. By streamlining the process, QBank offers all stakeholders social media publishing tools to store, review, and distribute creatives. With innovative metadata technology and artificial intelligence, our DAM provides advanced analytics and reports for tracking creative elements. Collaborators may share social media posts from international offices, distribute vital updates to worldwide followers, and enhance global brand awareness.
By accessing the DAM to store, manage, and publish digital assets, customers enhance productivity to effectively grow online audiences. With the flexibility to organize distinct digital files, QBank SaaS streamlines sharing on social media publishing platforms. Leveraging automated processes and customized configurations, each customer increases his reach via multiple social media channels. From storing podcasts to posting video productions, QBank offers a simple data asset management solution for complex social media ecosystems.
Manage and follow up on social media campaigns
We understand that campaign management is a crucial part of social media management. With the Brandwatch connector you can set up your campaigns in QBank and publish via Brandwatch to all your social media channels, enabling you to get statistics on a campaign level. Make sure your campaigns deliver on the highest level with QBank.