With QBank, digital asset management is so much more than having a vault for your assets. Features like Moodboards and smart automations help you gain full control of your assets and achieve more. Discover 10 of the coolest features of our platform.

1. Want to build automatic workflows? Use metadata.

Using the advanced metadata configuration in QBank you can set up automations. For instance: whenever an asset is tagged with "product A" it will automatically be published to the Media Portal, or a notification to the product owner will be sent. There are numerous possibilities to create automatic workflows based on your business rules.
2. Collaborate with your creative agencies using Moodboards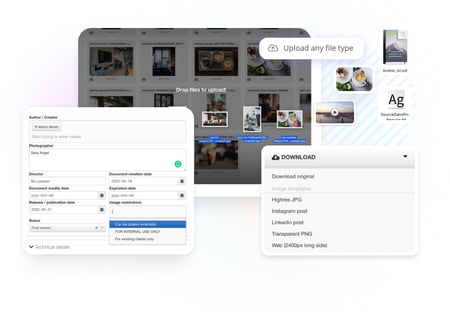 Using Moodboards you can collaborate with your in-house teams as well as with your external agencies, such as web agencies, creative- or PR agencies. Each team can upload and download assets from the Moodboard, leave comments and feedback. You can customize the Moodboard look-and-feel to match your brand.
3. Link related assets in a group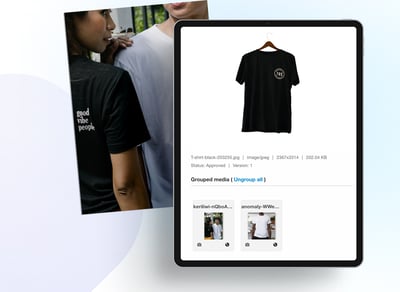 Connect images, documents, videos, and other materials that are related to each other for easy access. Let's say you have an image of a t-shirt, connect it to images of the t-shirt in the colors you offer, images of different angles of the t-shirt, the marketing materials for the t-shirt, and any other assets that should be grouped together. A perfect way to save time and ensure brand consistency across your organization.
4. Multi-Edit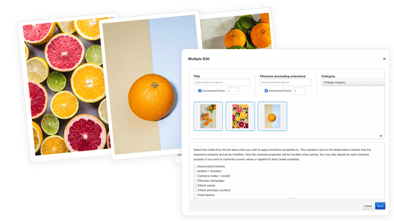 Using this feature you can edit multiple assets with one click. One of our favorite ways to use this feature is to update keywords for multiple assets at the same time. You can also use this feature to add the name of the photographer of hundreds of photos in seconds, and any other multi-edits you wish to make. In Qbank, simply choose the assets you'd like to edit and open the edit window to make edits to the assets at the same time.
5. Ctrl-paste an asset straight from your computer desktop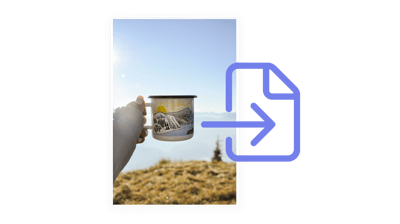 This shortcut will come in handy when you have an image on your desktop that you want to upload to QBank, simply hit ctrl-c on the image and open the QBank window, and hit ctrl-v and it will upload to the library.
6. Shortcut keys

A few additional handy shortcuts to make your workflows smoother:
Download: Select assets in QBank and hit "D" to instantly download them.
Publish: Select assets in QBank and hit "P" to publish them, the window of your publishing channels will open as you click "P" and you will be able to choose where to publish to.
Preview: Select assets in QBank and hit "space" to see a preview of the files selected.

To find more shortcuts visit our knowledge hub.
7. Work smart with the media box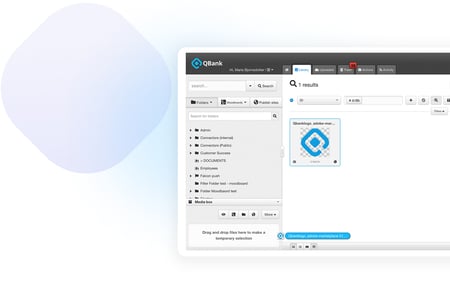 This tip may come in handy when working on collecting assets for a project, say a newsletter or document. Create a selection from various folders by simply dragging and dropping them into the media box. When you're happy with your selection, you can choose to download the assets, edit them etc. Learn more about the media box.
8. Find duplicates using the search function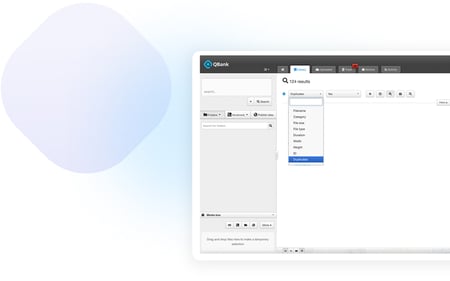 In the search window, go to the drop-down menu and choose "Duplicates". QBank will find all files that are potential or actual duplicates so that you can quickly go through and delete the files you don't want to keep
9. Use logical naming conventions to facilitate collaboration - and improve SEO!
Ever tried to find a file that your co-worker saved? Without a set naming structure for your assets, this can turn out to be quite a hassle. To facilitate and encourage collaborative working, it is important that folders and assets are named in a consistent and logical manner so they can be located, identified, and retrieved as quickly and easily as possible.
Correct and logical naming is also very important when publishing these assets from QBank to external channels, making sure that the viewers understand/recognize the context of a photo, product name, or a person and at the same time making the assets Search Engine Optimized (SEO). For practical tips on naming conventions, visit this article from our knowledge base.
10. Integrate your favorite tools for smoother workflows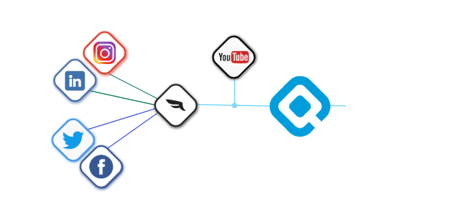 Whether you want to integrate your PIM, creative tools, PPT, Social media, or CMS - there are endless possibilities to add on integrations to your favorite tools with QBank, making your day-to-day workflows even easier.
Book a demo to learn more!