Creative teams spend a great deal of time, money and efforts on creating smashing content for a large variety of channels. With all that investment isn't it strange that so few seems to predict or measure return on their content investment? With QBank Digital Asset Management you can cut costs on your content investment.
Calculating return on investment (ROI) on Martech investment is common, but what about the investment you do in content. We spend a huge amount of time and efforts in creating content for a variety of distribution channels, like blog posts, social media posts, whitepapers and ads. But without a proper management you will find it difficult or impossible to reach return on the time and efforts spent on content. We suggest you to have a look at the return on your content investment. This is where the real return is shown.
With a DAM solution in place you will pretty fast be aware of the (large) amount of content and digital assets you have and how a DAM enables a more efficient usage. So, how can a DAM solution support you in getting a better return on your content investment?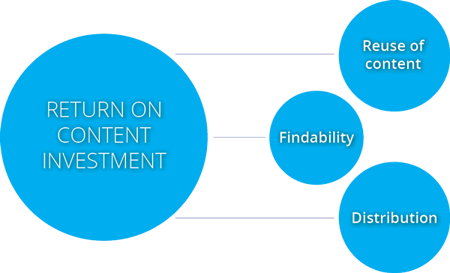 Reuse of content
We are spending a lot of time on creating content but very few are able to reuse it efficiently. Sure, you can reuse content without a DAM, but you will lack in control, findability and consistency. With one single-source-of-truth you always have everything under the same roof and always accessible, ready to be published and reused.
Findability
The largest obstacle in reaching return on your content investment is findability. Not finding your content makes reuse impossible and spending too much time on search is not an option for many Marketers'. A DAM solution will give you an overview of content and originals, which enables time-saving reuse of content for different purposes.
Distribution
Why do we need to reuse content? With the many distribution channels used today we spend a lot of time pushing our content. If findability is what enables reuse of content – then distribution is what enables getting your content out in multiple channels, automatically. It's also a time saver for the creative team and the true return on content investment.
Learn more about Digital Asset Management.
Related blog posts