The business landscape has evolved and the adaptation of remote or a hybrid work-environment has become a common trend with numerous benefits. Benefits such as, increasing productivity and improved work-and life balance. Remote work has captured employees' hearts.

With this transition, businesses face new and unique challenges when it comes to digital asset management. These are easy to adapt to, when having a systems and tools that can face all the challenges.
When businesses integrate DAM system with other tools, they can streamline their data management and communication processes, leading to more efficient workflows and better decision-making.
Three challenges in a remote work-environment:
Collaborating with digital assets in a remote world
Ensuring a consistent workflow in a remote work environment
Centralized asset accessibility when working remotely
Collaborating with digital assets in a remote world
In a traditional office setting, colleagues can easily collaborate through discussions about upcoming projects. One primary challenge in the remote work environment lies in a seamless collaboration.
Since more than one person is often working on one asset, this becomes a major challenge. It can lead to version control issues, where changes may get lost or overwritten resulting in confusion and inefficiency.
Solution to remote collaboration
Investing in a robust DAM system for collaboration is important for businesses with remote work environments. With features for sharing and collecting assets, both with internal and external stakeholders, will make it easy to collaborate.This is beneficial both for collaborating between team members and avoiding version control issues.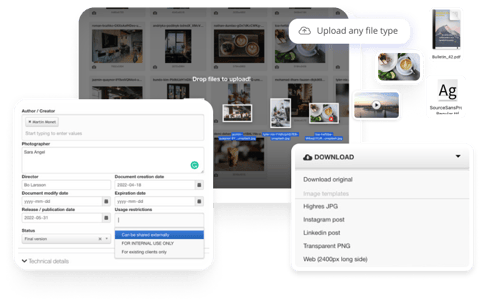 Consistent workflow in a remote work environment
In the remote work environment, maintaining a consistent workflow can be a daunting task and the structure can easily become unorganized. A challenge to monitor asset creation, approval processes and project timelines effectively without the physical presence of example managers.
Solution to a consistent workflow

A powerful metadata management in a DAM allows businesses to tag, add keywords and description to assets. This enables an organized and structured central hub for all digital assets.
Spend more time on what you truly enjoy by:
Building automated workflows
Building business rules from your metadata
Adding AI features, such as autotagging, to your DAM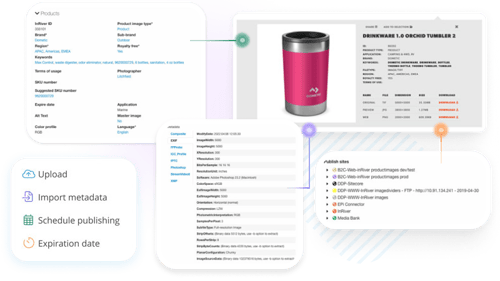 Centralized asset accessibility when working remotely
Remote environments often result in teams spread across different time zones and assets stored across multiple devices and hard drives. It can be challenging to ensure that all team members have access to the latest versions of digital assets or knowing where to locate and find the right resources. This often leads to confusion and duplicates, triplicates or even quadruplicates of digital assets.
Solution for a central accessibility

By centralizing and having all digital assets in a cloud-based DAM platform will make it easier to search and locate assets quickly when working remotely. Colleagues can
Access files from anywhere
Collaborate with ease and keep track of changes in assets.
And of course, be able to locate if there are any duplicates made.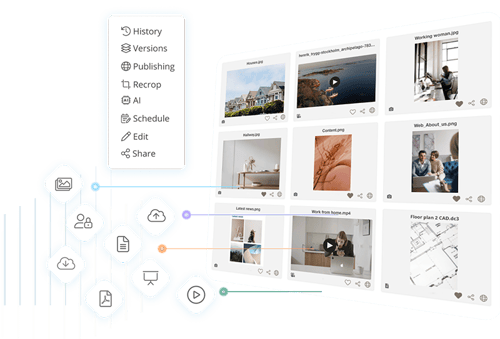 Investing in the right tools and strategies will not only empower remote teams collaboration but also ensure that digital assets remain secure, organized and available. By addressing challenges listed above, digital asset management is essential for organizations operating in remote work environments.