Marketing and Communications Teams produce content for social media, websites and blogs on a daily basis. The pile of content is rapidly growing and can easily get out of hand. If content is king, then a tool for organizing it would be the castle.
Producing content affect several roles within a Marketing and Communications team, it's the creative team, the web editor, the social media manager, and management. When you have multiple stakeholders that share marketing material it could be time to look over your workflows. Without a digital workflow you all tend to do the same thing over and over again. Countless of studies show that we produce more content than ever, but many organizations lack in effective ways to organize it. QBank Digital asset management is a tool for structuring and organizing digital assets, a scalable tool with advanced features and integration possibilities of choice.
One image - 200 versions
My guess is that many of you have faced issues concerning many versions of images or other types of content. How many times have you ended a file name with "final_final_version"?! I know I have.
This issue becomes an even bigger problem if you have a team that share assets. For example, you have a Web Editor and a Social Media Manager and they both wishes to publish the same blog post. They will probably use the image featured in the post, but they both have to resize and crop it to fit their chosen communications channel. The Web Editor will need one size of the image for the actual blog post and possibly one for the start page for promotion. The Social Media Manager will need one version for every social media channel (they are all different). Changing size of an image in photoshop is multiple clicks – open photoshop, open image, changing image size, saving in accurate format to a shared file or (god forbid) to your desktop. Imagine how many times a day the Web Editor and Social Media Manager resize and crop images, and how many hours it adds up to.
Reality check from a QBank user
Our client NORMA Group did calculate on how much time their marketing team saved since starting using QBank, and came up with three hours a day. That's three hours a day more to spend on content or marketing activities. Learn more about their solution here.
Image templates, auto-crop & resizing
When uploading assets to QBank you should always add the largest version you have, the bigger and heavier the better actually. Since QBank has amazing image features like auto-cropping and resizing you need the largest version available. That way you have so many more possibilities when convert it to chosen size. By setting up pre-determined image templates according to you publishing needs, you get your images or logotypes publishing-ready within seconds.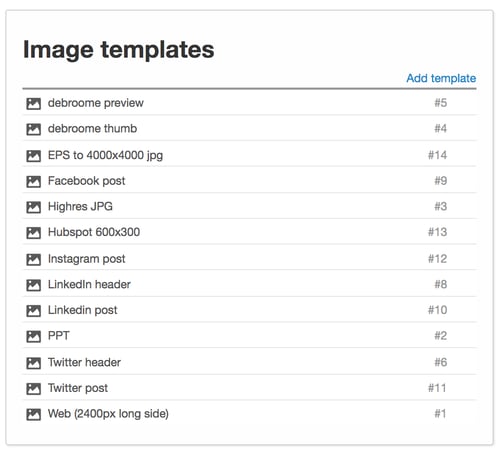 This list is an example of image templates you can add to your QBank, to increase time-to-market.
The templates are easy to set up and you can chose if you wish to use a standard template or use advanced settings for density, background, ICC profile and much more.
You always keep your original file and if you do need to change it you upload a new version. If you upload a new version of a image that's been published to one of your integrated communications channels, the assets will be updated in all channels. This way you can always keep track of versions.

Smart management and integrations
With QBank you have a centralized hub for storage, which means your files are within seconds of reach. By adding image templates for all of your different communications channels your resizing will go from minutes to a couple of seconds. All of this is done without messing up originals and always have full control of versions.
Below is an illustration of our integrations and to what suppliers we have connectors. It's also an illustration of how to use QBank as a centralized hub, like a spider in a web that push out your assets, in the right format, to the right communications channels.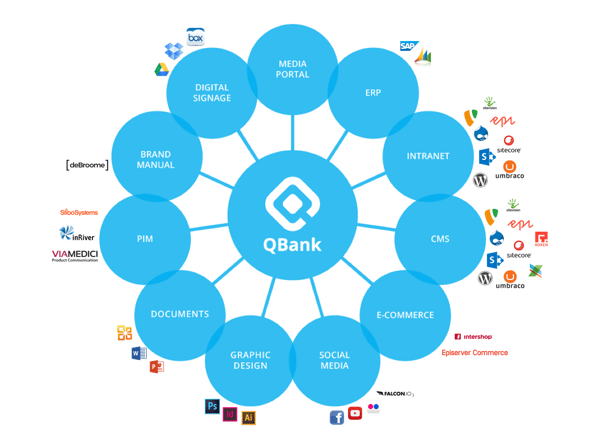 Convinced to get a DAM yet?
We've published a few videos to illustrate the possibilities with QBank, watch them here or do you want to learn more about the benefits of a DAM? We have collected a number of White Papers and blog posts related to What is Digital Asset Management.