Marketing and Communications departments often manage large numbers of digital files or assets and publishes in several different channels like websites and social media channels. The work of any brand manager has become more complex the past years due to the increase of channels and content. So, how do you keep up without a system suitable for the task of storing, managing and publishing? A shared folder on a server or a local hard drive will not do the job for you no more!
Storage
Of course, you will need someone to hold your precious assets and keep them safe. QBank is a web-based cloud solution and uploading can be done anywhere; as long as you have Wi-Fi, a computer or a smart phone. Yes, we have an app where you can upload images when you're on the run.
Edit, crop, resize
A smart thing about a DAM is that it helps you edit, crop and resize images and assets. This could be very helpful if you're reusing content in several channels or if you have many different image sizes on your website. By adding pre-determined image templates, you can resize an image with just one click. And even better, you can even do this on several images at once.
Keep originals
You always keep your originals in QBank, and new sizes or cropped versions will be added as new assets. This way you cannot lose track of either originals or new versions. When you have created a new version, you can chose to group it with the original to keep them together.
GDPR-tools
Today many of us need to make sure to follow the General Data Protection Regulation (GDPR) when managing personal data. QBank has a selection of features to ensure that you keep track of personal data such as images of employees, consent agreements and more. We have also made it easier to delete personal data. Read more about it in this blogpost on GDPR-tools in QBank.
Publish - CMS, PIM, Social media
When your editing is in order what's left is getting the asset published. From QBank you can publish assets to a wide selection of channels. Thanks to our open API it's possible to integrate QBank with your current communication tools. You can also publish and share assets with your stakeholders through mediaportals such as brand portals or retailer portals.

BUILD A RELIABLE MARTECH STACK
A key in working efficiently with your digital assets and marketing material is to integrate your Marketing technologies (Martech). This to enable pushing asset to other systems and programs automatically. We illustrate QBank's integration possibilities with our flower.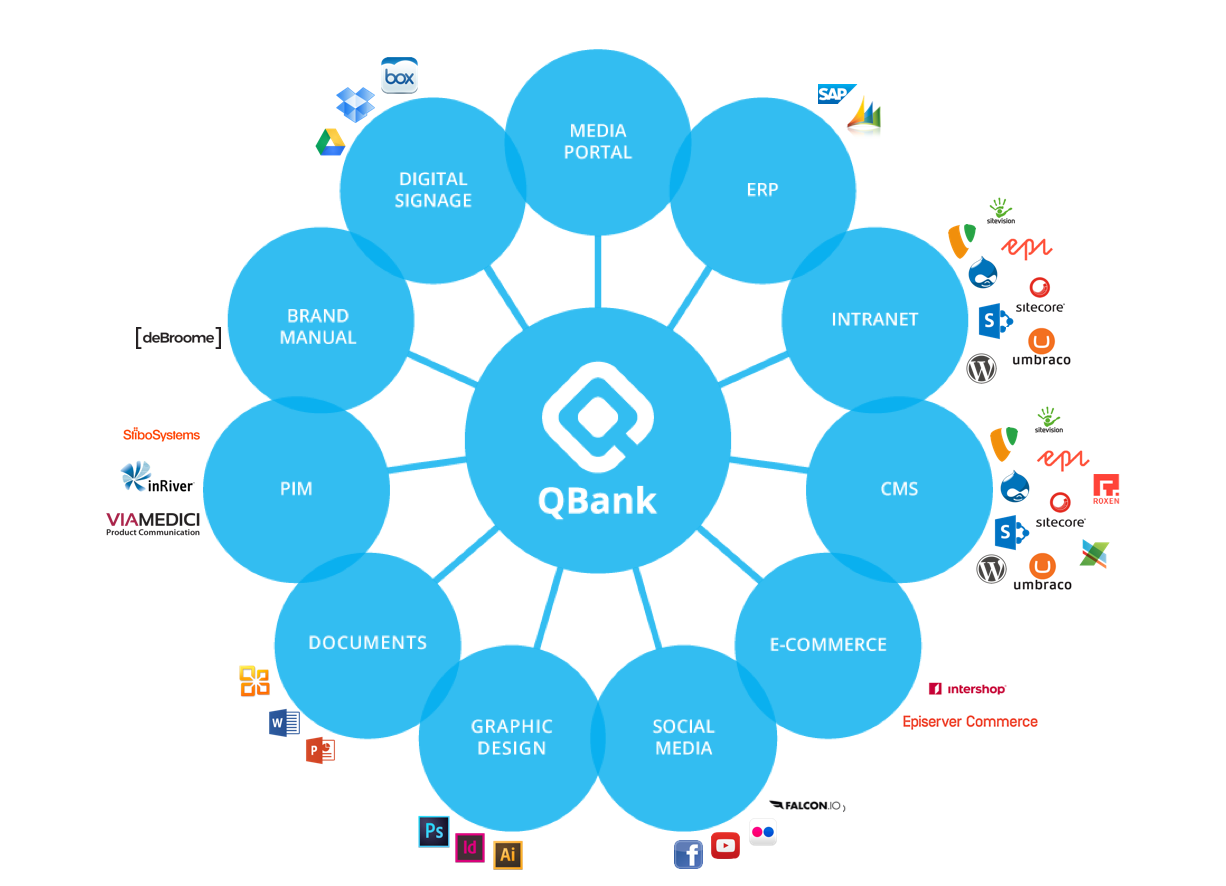 want to learn more?
Go to our overview page for "What is DAM?" more information.