Campaign season up ahead! Fall mean busy times with multiple campaign periods. How many and how large is of course related to your business and market, but most of you surely have a holiday campaign to plan for in the near future.
Managing marketing campaigns includes a lot of content and many different stakeholders. A Christmas campaign is a great example that often include publishing in multiple communications channels.
A (really) basic seasonal campaign might include:
Email greeting

Banner images (social media channels, website)

Website information

Google ad's

E-commerce seasonal product offers

Internal information (campaign information, invitations to event)
Social media (

greetings, p

roduct related offers)

Seasonal logo
So, if this is a basic campaign we know how much time we need to spend on a complex campaign. In case you are not working with campaigns on a regular basis, if you were to make a holiday banner/header for all the communications channels mentioned above you need to make 12 different versions because they all have different sizes. Something QBank can do for you.
It takes a lot of time and if you can spare a few minutes it's usually something welcomed. Not only does campaign projects consists of lots of different types of content, but it often includes several co-workers or an ad agency. With multiple stakeholders, you face time consuming proof reading, and rounds for approval. Here's where QBank can be of service.
Here are some great features for making your campaign work run more efficiently.
Version control
Some would argue this is the number one QBank perk, especially if you are working on a team. Keeping track of versions can be a hand full. Instead of adding new versions as a new media, QBank keep track of your versions for you. You can always see the history of who and when a new asset has been added. Always in control, always updated.
Since you usually have some copy to go with your images or rich media, this can also be uploaded in QBank. The same goes for text files, add a new version to keep control.
Campaign folders
A campaign folder is a folder set up with campaign related properties. For example, it could be a folder that collect everything with a specific metadata tag you use for campaign material, like Christmas or Black Friday. You can also filter on date, a nice feature since campaigns are usually tied to a specific timeframe.
Coop Norway is a large retailer within grocery and construction goods, and a QBank user that use the campaign folder feature. They have some 1200 stores throughout Norway and also online stores. They use campaign folders to keep all of their many campaigns up to date. For example, when they are heading towards Christmas their campaign folders are set to push their Christmas logo version. So, during those three weeks the logos are changed and when time is up, QBank switches back to the regular logo. A pretty nice feature that can save you a lot of time.
Moodboards
When it comes to sharing your campaign content QBank Moodboard, is your number one friend. Moodboards are versatile and can be used for sharing content both internal and external stakeholders.
For work in progress you can use Moodboards for sharing texts for proof reading, or ads, banners and art work for approval rounds. The great thing about using this channel is that you document everything, from comments to new versions. With the Moodboard you decide who will get access and what that person is allowed to do in terms of upload, download, read-only, comment etc.. You can also protect your moodboards with password for a secure interaction.
If you wish to share material with an agency and you need them to send you material, you simple give them permission to upload assets on your Moodboard, and it will be uploaded in QBank waiting for your approval. Bye bye FTP-servers and large email attachments.
Reach out
When it comes to the final reach, you are lucky working with a DAM. Within seconds you can have your ads, banners, prints reaching hundreds of people, or just that one specific one important to you. A scalable solution as QBank calls for versatile opportunities.
How to publish your content is a bit depending on how your QBank is integrated with the rest of your Martech Stack. If you have added connectors or integrated QBank with other communications tools like website tool (Optimizely, Sitecore, WordPress) or social media channels (Facebook, YouTube) you can easily publish your campaigns from within QBank.
With the connector for Brandwatch you have a great campaign tool for your social media posts, and you add images or videos to preferred campaign from within QBank as well. If you are a advanced social media user, with multiple social media channels you should have a look at this connector. Not only is it amazing for campaigns, but it keeps track of your engagements and followers, offer you great statistics and offers a planning tool to help you get a great overview.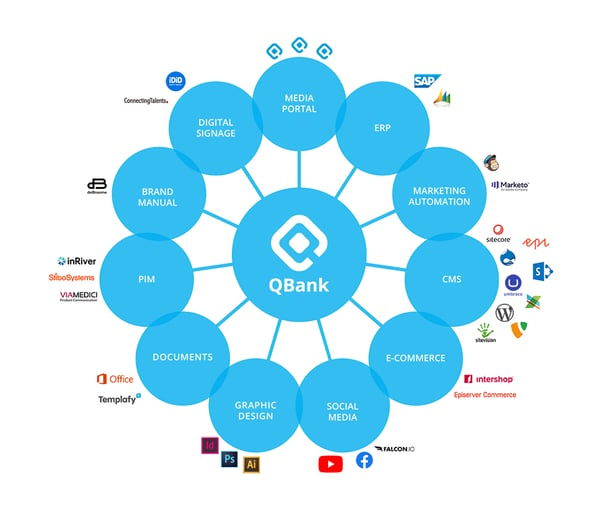 Hopefully this will help you in running efficient campaigns. If you have any questions about the features mentioned above, contact us!