Re-live the magic of
DAM Day 2022
Watch the video recordings of the DAM Day keynotes from Avaus, Ericsson, Arjo, Axis Communications, inriver and QBank below and re-live the magic of DAM Day 2022.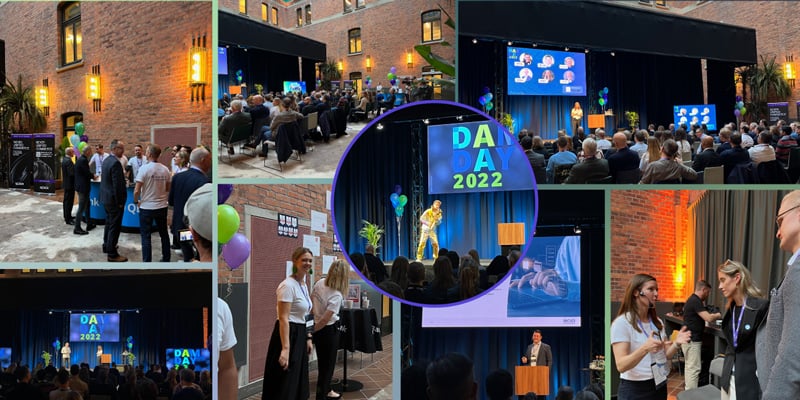 Avaus and QBank
Follow Ville and Johanna from Avaus on the trip of trending topic content automation. You will learn about the purpose of content automation, why it matters and what it means, how companies take their first step towards content automation and what they actually do to create content automation. Hootan from QBank is joining to wrap up with an important building block in content automation - the Digital Asset Management system.
Martin Nyberg - Arjo
"It's not impossible! We built this in three years, you just need to know what you want and make sure you do it" - Martin Nyberg
In this presentation, Martin talks about how Arjo went from storing assets on a mix of databases (which increase risks and inefficiencies), to building up a DAM solution in three years with automated workflows. You will learn how to make it a success and which stakeholders you need to have on your side to make it happen.
Magnus Bodin - Axis
Follow Magnus Bodin talking about the Axis journey with implementing DAM, what they learned from implementing it and what they see the future will hold with their DAM. You will learn how to motivate teams to consume from the DAM system, why DAM's not only a marketing tool and why it is good to have a DAM when having a Cyber attack.
Kjell-Åke Rydén - Ericsson
Kjell-Åke Rydén from Ericsson will give you a hands-on demonstration of how Ericsson is using QBank, and their different automation workflows. Kjell-Åke will talk about how to teach an organization like Ericsson to work with one central hub for digital assets and how they use the QBank taxonomy tool to manage tagging and brand consistency.
Joakim Gavelin - inriver
Watch Joakim Gavelin, from inriver, speaking about the digital shelf and how important it is to have the right content and product information to not lose consumers or sales opportunities. People rely on digital sources today. Joakim informs you in his keynote what to do to avoid ending up selling a chocolate box that is categorized as a fruit juice, recommended from ages 25-40 and described as a "bathroom cleaner" - watch his keynote to find out more.
Fredrik Berglund - QBank
Fredrik Berglund from QBank will keep you updated on the QBank Roadmap for 2023. In this session, Fredrik will take you through QBank's 2022 News including Validoo Connector, Chrome Connector, Adobe XD connector and Digital Consent Process. He will also also take you through what is in progress and of course the exciting new features and focus areas for QBank in 2023!
Learn more about the Keynotes and Presenters
Martin Nyberg
Director Brand Management
Arjo
Arjo is a global medtech company with 6,500 employees worldwide, and a huge digital asset library. We will hear from Martin Nyberg at DAM Day how Arjo's DAM goes beyond marketing assets, and how it is saving Arjo time. Using a solid taxonomy and a strong user focus, Arjo has used QBank to create a connected and integrated DAM system.
Johanna Andrén
Data and Analytics Business Lead
Avaus
Johanna is a specialist within Data and Analytics and will share her expertise with us on DAM Day. She specializes in ensuring that organizations achieve business impact from their analytics initiatives. Johanna is passionate about data and AI within the field of intelligent business growth.
Magnus Bodin
Axis Communications
During the event we are thrilled to have Magnus from Axis Communications as one of our keynotes. Axis Communications has been a QBank customer since 2019. Axis is the industry leader in video surveillance, and develop and supply innovative network solutions that improve security and business performance. Don't miss how they use QBank for managing their many assets.
Kjell-Åke Rydén
Brand Consistency, History & Automation
Ericsson
During his 40 years with global tech-giant Ericsson, Rydén has been working with the company history for the last 30 years, and with Brand management for the last 20 years including some of the digital support tools such as DAM, QBank. In his keynote on DAM Day, Kjell-Åke will speak about metadata and content creation. He will show how Ericsson collaborates with external agencies while maintaining full control of their creative assets.
Joakim Gavelin
VP Customer Accounts and Digital Shelf Services
inriver
During this presentation, Joakim Gavelin will illustrate some of the largest threats, learnings and opportunities on the digital shelf. He'll also look at the importance of getting your valuable content in place everywhere at the launch of a product
Ville Takala
Avaus
Be prepared to be inspired - the Strategic Manager Ville Takala will bring his great knowledge and core competences within strategy, digital transformation, change management and marketing. His current mission is to help companies navigate this exciting space and reap the significant competitive advantages that are at offer. Sounds pretty nice, right?
Hootan Soheilzad
Business Development Officer, QBank
QBank
Hootan Soheilzad is one of the co-founders of QBank. With 20 years of experience within the field of Digital Asset Management his keynote will be all about looking ahead at the DAM market, what's next in DAM? How are businesses changing and what does that mean for digital asset management and QBank?
Fredrik Berglund
Head of Product and Development
QBank
Fredrik Berglund is responsible for product management and development at QBank. His presentation will focus on our exciting roadmap for 2023. We will be rolling out new features to enhance your QBank experience in the near future.
Sofie Samrell
QBank
This will actually be the 7th time our CMO Sofie Samrell will take the DAM Day stage. During DAM Day she will guide you through amazing case studies and QBank updates.
What to
expect

from the event!
Who is attending DAM Day?
DAM Day is an event for a wide range of roles, the most common ones are CMO's, Marketing Managers, Product Managers (PIM), CIO's, and Solution Architect's. You can be sure to meet QBank users, DAM experts, DAM newbies and DAM lovers.
The Location - 7A Posthuset
The event is held at 7a Posthuset in central Stockholm. Enjoy the latest from the DAM market in a beautiful setting. The location -
Vasagatan 28, 111 20 Stockholm
.
Keynotes at DAM Day
DAM Day is not an industry specific event, but covers topics that can be inspring regardless of industry. Previous years we have had keynotes from our customers at Viacom - MTV, the Nobel Foundation, Coop Norway, Zound Industry, Geely and many more. Watch on YouTube >>