In our aim to offer you great support, we have made a few adjustments to our routine. We therefore launch a new form for you to fill out whenever in need.The reason for this is to make it easier for you to give us the information we need to reply faster. By using a form, we can guide you easier and actually let you know what information to attach.
Support routines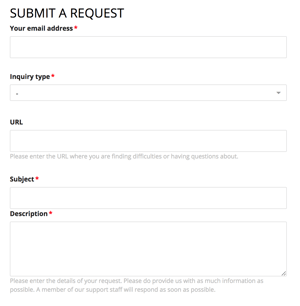 Inquiry type: Chose whatever fit your support subject the best, is it a problem concerning log in or are you having questions about your agreement.
URL: On what page are you facing difficulties? Type in that URL address.
Description: Be as specific as you can.
If you have more questions within the same field, you can add them all in the description filed.
TWO WAYS TO The form
You will find the form in two separate locations and you can choose either one;
On our Support page on qbankdam.com
From within your QBank by the question mark in the top right corner
Help Us, Help You!
At QBank we have a great support team at your service, to help and guide you. When contacting our support, you want your issue to be solved by the first reply. Right? Please read our following advice:
1. Be Specific. It helps us if you can be as specific as you possible can. Whatever your issue is, please include a precise description. If you have received an on-screen message, include it.
2. Screenshots are fantastic. Please Include screenshots to illustrate the issue you are facing. It will help us to understand your situation better, and faster.
3. Step-by-step. If possible, provide a step-by-step instruction to what you did to trigger your problem. Explain what you expected, and what result you got instead.
Knowledge Base
Have you visited our information center or as we call it, our Knowledge Base? Here you'll find user manuals, the latest updates from our Developers and much more.