How do you create an integrated, seamless customer experience across multiple devices and touchpoints? When attempting to pull off a successful omnichannel marketing strategy, it is vital to have the right tools in your arsenal. Here, consistency is key and easily achieved by embracing a powerful Digital Asset Management (DAM) solution that ensures uniformity and excellence for every part of the communication process.
A DAM Solution for the Perfect Omnichannel Marketing Strategy
When you look at the tools you need to support your omnichannel marketing efforts, it is best to choose something which will give you what is known as a "single source of truth."
This concept supports omnichannel marketing by making sure that everyone in your organization always has the correct information, data, and assets needed to deliver a consistent and unified marketing experience across all touchpoints. This does, in turn, lead to fuel for more effective workflows, brand consistency - and you guessed it, a well-received omnichannel marketing experience for the customers.
Today many different organizations across various industries are making use of the omnichannel marketing strategy, including healthcare, retail, technology, and more. Thanks to online channels, customers have more options than ever before and expect to receive information in real-time. According to a 2021 article by the Institute for Management Development (IMD), "Major U.S. retailer Target discovered that multi-channel consumers spend four times as much as store-only consumers and 10 times more than digital-only consumers. Similarly, Zara's parent company, Inditex, announced a return to profitability thanks to omnichannel capabilities, which grew digital sales by 74% in the first half of 2020."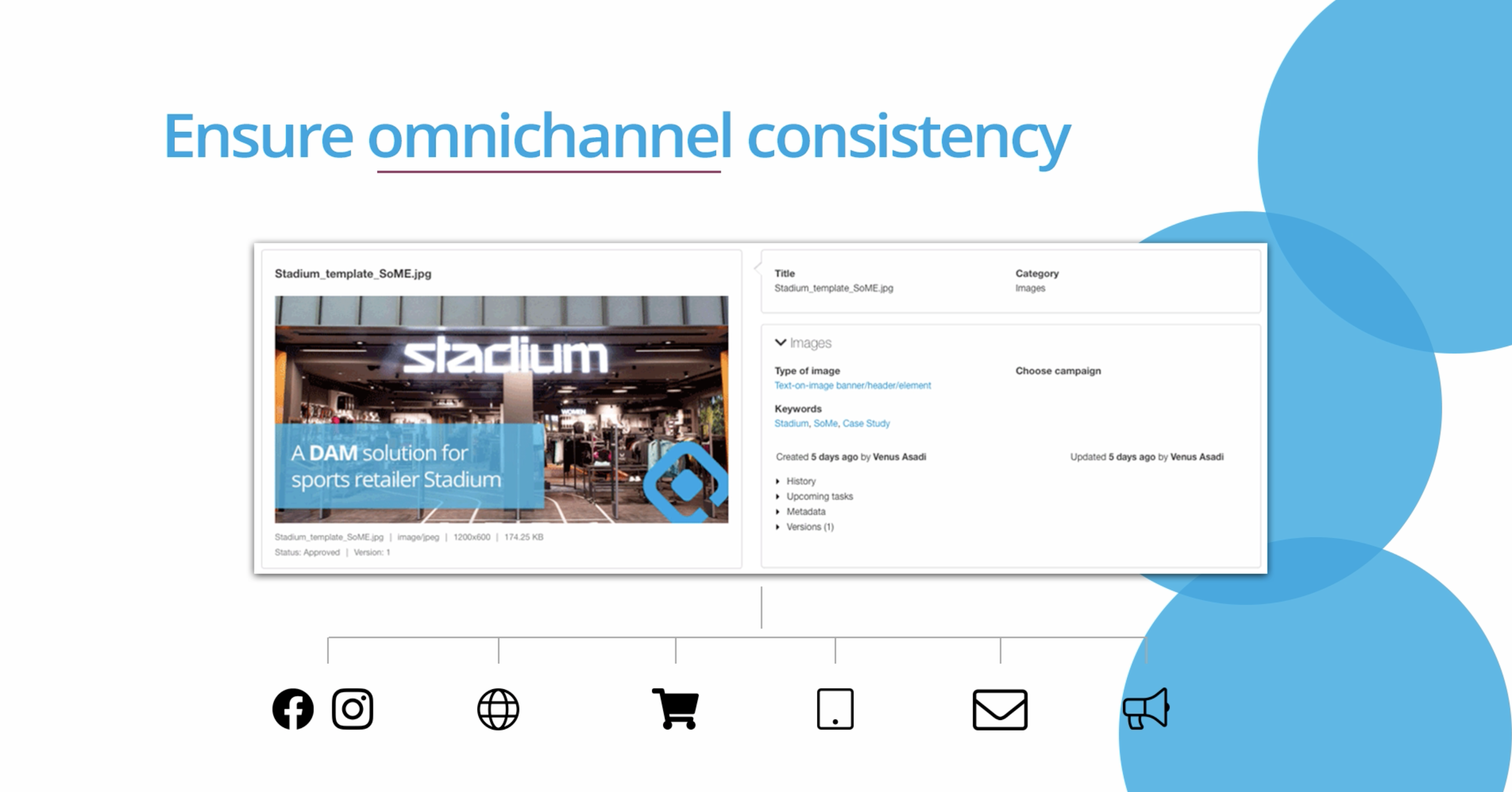 A DAM solution provides a centralized hub for all digital assets. It is the command center allowing creative teams to access the latest version of any file on-demand. A DAM is also the automation engine that replaces outdated assets across all your digital channels based on the main file housed in your DAM solution. In the age of omnichannel marketing – where content is key and consistency is an art – a DAM solution becomes vital to any business that has a digital presence.
By having your QBank as the centralized hub, you're able to integrate the rest of your go-to technologies, such as your PIM, CMS, and much more. For example, you can easily collect and download assets from photographers using the Moodboards feature. Which, in turn, supplies your PIM system with the most recent approved product images. All of which are updated across all your channels, thanks to your DAM. By embracing a DAM solution, you can ensure consistency and quality for every communication, which is, as we mentioned, key when it comes to an omnichannel marketing strategy.
Interested in learning more about what a DAM is? Take a minute to read our white paper on the subject.
A Client Perspective
Want to learn even more about how QBank can help you in your omnichannel marketing strategy? We recommend that you read our case study on our client Coop Norway for a more in-depth look into how brand consistency and being in complete control of digital assets can help maximize productivity and ensure seamless omnichannel marketing.
Interested in learning more about the benefits of a DAM? Don't hesitate to book a demo today!