When it comes to marketing, then the content is arguably what's most important. The marketing and communications teams are constantly producing content for social media and other media channels, daily. However, this means that the amount of content produced easily gets out of hand.
Having multiple stakeholders sharing marketing material, you need to go back and reassess your workflows. Without a digital workflow, chances are you end up doing the same thing over and over again.

In today's digital climate, we produce more content than ever before. But we lack effective ways to organize it. QBank is a Digital Asset Management, a tool for organizing and keeping control of your digital assets. It is a scalable tool, using advanced features and integration possibilities, depending on what your organization needs.
One image - endless versions
Changing the image size and editing leads to many different versions of the same image, before getting to the final version. Keeping track of all the different versions being used on various social media channels can quickly become a problem.

It becomes an even bigger issue if there's a team sharing assets. The Social Media Manager will need one version for channels on social media, while the Web Editor will need one size of the image for a blog post and website promotions.
Templates, auto-crop, & resizing
QBank has features such as auto-cropping and resizing. When you upload an image, you need to use the largest version available to be able to convert it into your chosen sizes. You're also able to set up pre-determined image templates according to your publishing needs. With that, you'll get your images or logotypes publishing-ready within seconds, saving you a lot of time while staying consistent.

By setting customized image templates you will increase efficiency and time to market. You're able to use a standard template or use advanced settings for density, background, ICC profile, and much more. Below is an example of how it can look.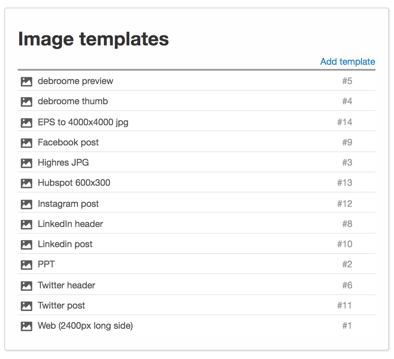 QBank will help you to keep track with advanced version management and you can set workflows where updates to new versions are updated in all channels where the asset is published. This way, you will always keep the original file and make as many versions as you like. All while being in control of your digital assets.
Management and integrations
Using QBank, you have one centralized hub for storage, in other words, you have access to your files within seconds, all in one place. By adding image templates for different media channels, resizing will appear within seconds. All of this is done without messing up the originals and staying in complete control of all versions.