Multiple system managing the same digital assets, but without any interaction. A common set-up in many organizations. Not sharing data in-between systems is a great example of not taking care of your data.

Not keeping up with digitalization has turned out to be expensive for some companies the last year. The ones who managed to quickly turn digital during the pandemic, became the winners. According to a research by Harvard Business Review it has much to do with how a company manage data. We know that data is key in optimizing efforts in areas like marketing and sales, still many companies lack that control. The pandemic has so far thought us that you have to adjust to keep up and stay accurate. Taking care of data and use it wisely seems to be the best way to go.
Interactive systems share data
We all work in several different system on a daily basis, but are those system connected and talking to each other? We often meet marketing departments that has identified this as a time-consuming and highly inefficient approach.
Imagine the below image is your DAM solution integration map. Now, imaging all of these tool's sharing data. That is a lot of data to analyze and use, to better understand things like customer lifecycles, lead conversions or social media engagement. Sharing also includes the basics like metadata, product identifications, naming conventions etc.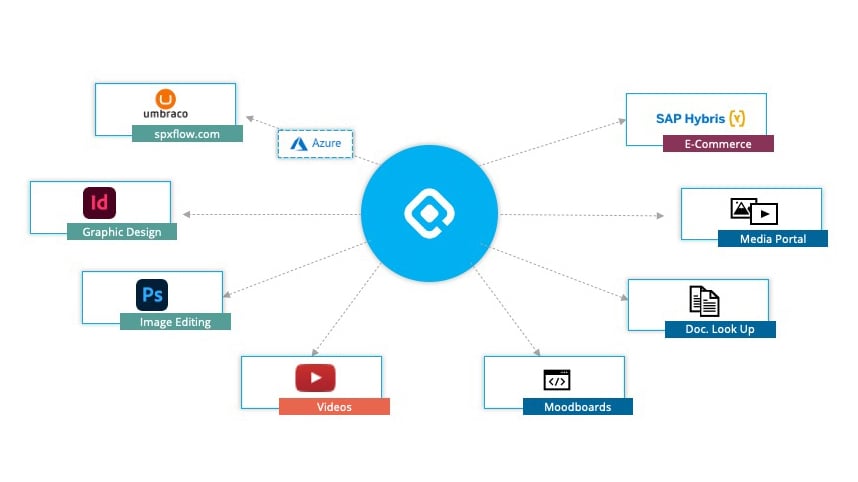 A data-sharing success story
At our event DAM Day, we got a great example of how an integration between two systems can lead to impressive cost savings. The (secret) QBank customer added an integration to social media platform Falcon.io and be analyzing the data that was shared between the systems, they could increase their social media engagement by a staggering 400% while decreasing content production cost by 50%.
With the two systems combined they could look at data for social media engagement KPI's and content bought from external agencies. They found out what types of content was successful on each market and optimized their posts accordingly. Sounds fairly easy, but with the world as your market, everyone with specific cultural codes and languages – it is a huge amount of data to analyze. When this analyze was done, they could have a look at what type of content their agencies delivered and what was used successfully. They found that instead of producing new content, they now had a tool for reuse of content. The control they gained with QBank led to a decrease in externally purchased content by 50%.
The enablers
Letting systems interact and share data is what will help you build a solid digital ecosystem. Setting up a tech stack with best-of-breed vendors and system by choice, is the way to go. Not only will you be on-brand and consistent in your communication, but you will also be in full control of what is published and where. Learn from your data and learn how to optimize your efforts according to that data!
Want to learn more?