Creativity Powers
Cloud-Based

Media Bank Ecosystems

Is your company seeking a convenient solution for organizing media elements? Customers experience seamless management of digital assets with QBank's media bank solution. Offering around-the-clock access to important creatives from any location, the cloud-based library allows quick retrieval of media assets from a simple-to-use dashboard. By storing all media in one convenient hub, collaborators leverage our powerful technology to effectively control multiple aspects of global digital storage and distribution. Here are a few reasons iconic brands trust QBank digital asset management (DAM) technology to manage media deliverables.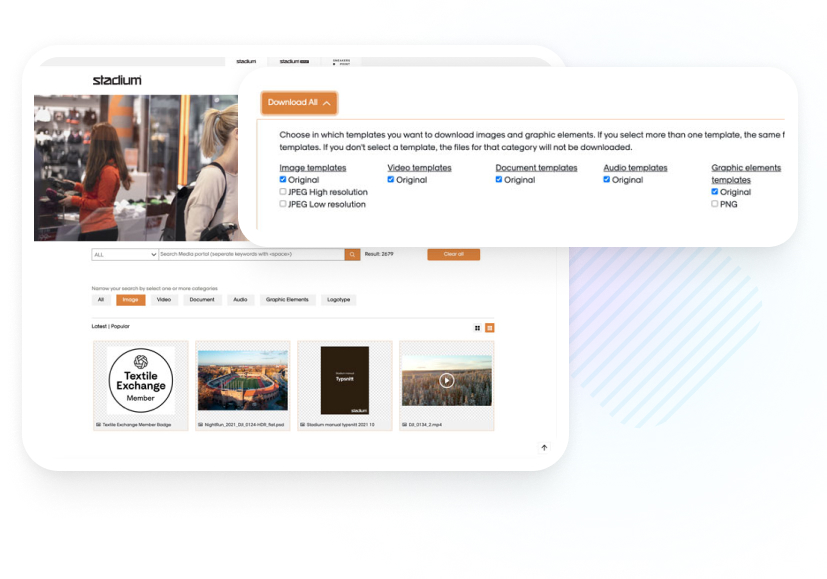 What is a Media Bank?
Customers easily search digital files with intuitive artificial intelligence. Improving content retrieval timeframes, the software allows for quick media production for live events and projects with tight deadlines. Synchronizing information with metadata and powering distribution for major events and global corporations, QBank's SaaS offers organizations the technology to build a robust media ecosystem in the cloud.
With the media portal's simple interface, users interact across town or across the globe. Professionals masterfully retrieve, repurpose, or alter digital media from any location. From instant search query results to metadata tools for enhanced organization, the media bank solution drives fast-paced media processes to meet demanding obligations.
App Integrations
With a host of approved apps, QBank drives the delivery of online media services. Users enhance media distribution capabilities with streaming, instantly publish videos online, and optimize important connections. Combining MarTech applications to improve communication, distribution, and delivery of media content, professionals move media to and from various channels with lightning-fast speed. Digital asset management app integrations leverage dynamic technologies to effectively store and distribute media to global audiences.
Automated workflows
Accessible from anywhere, a client may retrieve, alter, or distribute media assets from a personal computer or mobile device. With an entire library of content in the cloud, an organization has the power to impact, influence, and entertain global audiences with a few simple clicks. Interacting with collaborators on media projects has never been easier than with QBank's automated system for managing media. Users may live record, synchronize camera shots, and stream video simultaneously. Offering essential customization, media bank solutions meet the needs of various disciplines, such as news, sports, corporate, or entertainment.
By assigning roles and permissions, managers guide access to media content and track distribution. Customizable for improving workflows, automated directives allow for auto distribution and analysis of media content access. Customers may collaborate with tools designed to enhance communication between stakeholders. Offering customization to meet an organization's unique needs, QBank also delivers automatic notifications related to content access, analytics, and reports. Secure storage and instant media distribution are at a user's fingertips with this powerful and intuitive technology.
Storing all media elements in one convenient online location improves workflows and enhances team productivity. With optimal collaboration in the cloud, organizations may create new content for quick distribution to audiences. With strong collaborative tools, QBank is the go-to resource for helping a company build a customized digital media bank. Combining innovative technology with easy access to media elements, QBank offers enhanced storage capabilities and effective distribution to global audiences.