The QBank Story
A high-performance SaaS company, we have 19 years of experience in developing and implementing Digital Asset Management solutions for businesses across the globe.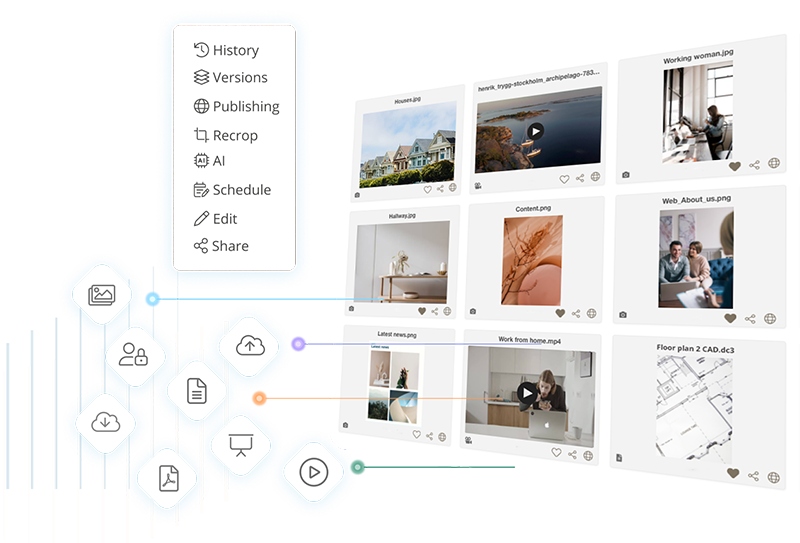 2003 - Search & Organize
QBank is born. QBank was initially a light DAM solution focused on search and organization.
2005 - Distribution
We added more functionality and focused on the distribution of assets stored in QBank.
2007 - Media Portals
One of our most popular feature, the QBank Media Portal, is born. A Media Portal is a branded website that can be used for sharing image, videos or documents with external or internal stakeholders.
2010 - API & Connectivity
Our integration possibilities are really picking up and with our open API we are able to integrate with external solutions such as CMS, Microsoft Office and more.
2012 - Mobile & Social Media
We added our social media distribution channels for Facebook, Youtube, and Flickr. A highly appreciated release and yet another step toward an ecosystem of integrations.
2014 - Control & Reports
As we know, data and statistics is necessary for making great decisions and scaling. We added our statistics functionality, giving our customers a better overview of where their assets are used.
2017 - Automations & Workflows
QBank has grown from a light DAM to a full-blown Enterprise DAM solution, with features for turning your digital asset efforts into a machinery through automations and workflows.
2018 - AI & Machine Learning
We are keeping a high pace on developing features and this is the year when we reveal our first AI and machine learning functionalities.
2022 - Exciting things ahead
This year's roadmap is filled with exceptional new features for our customers to accelerate their DAM investments. We're looking forward to an exciting year!
Join the team
At QBank we value innovation, engagement, and responsibility in everything we do. We are a team of dedicated, hard-working individuals that enjoy and contribute to a fun and stimulating workplace. Want to join us?