On DAM Day our CTO Hootan Soheilzad presented new and upcoming QBank features. But first he took us back to when it all started in 2003.
What defines our development
Whenever we decide what new features to work on we look at three factors; customers, new technology and business intelligence. We listen very closely to our customers' requirements and needs, it's our largest focus point and what drives our development foremost.
Since the start in 2003 we have added and developed a large number of features. Here is a quick recap of the most important developments based on customer requirements. It shows how our customers usage of DAM have matured during these years as new areas and problems have appeared.
Features 2003-2018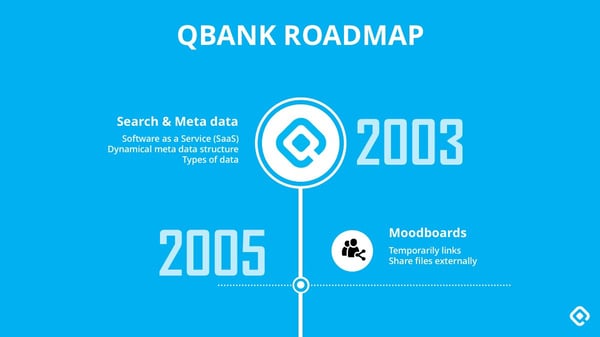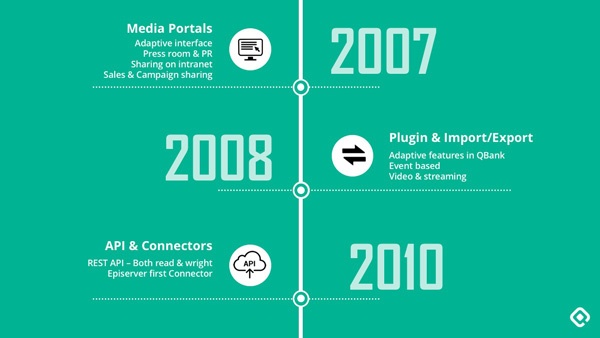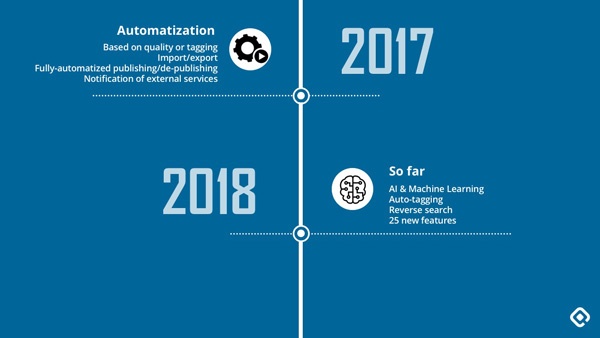 Roadmap 2019
To the most interesting part of this blog post, what is up ahead? Throughout 2018 and going on to 2019 we have spent a lot of time on development. As you saw above, we have 25 new features developed during 2018, many of which we haven't even promoted yet, it will be soon. But, let's have a look forward.
More control with image recognition and signatures
By adding a signature to an asset it's available to trace it and learn more about where it's being used.
Administration of workflows and processes
This will make it easier for our users to set up workflows and administrate it. As of now, QBank has to set this up. With the new feature you will have a more adaptive DAM and can work agile with your workflows.
New integrations and connectors
Updates of current connectors and continue to work close to existing and new customers' needs and requests.
Auto-tagging and indexing of video
We are working on making management for video even better since we see an increase in usage of videos. This will really benefit and save time for customers with large number of videos.
More AI and Machine Learning
We can do more with the search features and learn what users are searching for. This is an ongoing development that we will work on continuously. Also, we will continue on optimizing our reverse image search.
Online editing of documents and presentation
We are working on a feature that will enable opening and editing of Microsoft Word and PowerPoint within QBank interface. This will be possible with an integration to Microsoft Office Online.

Scalability
This is a key factor for us at QBank, and something we will not neglect. This is not only important for different kind of customers and their needs, but scalability is also important for preventing performance issues.
Book a demo
Are you interested in learning more about QBank and how we help our users to work more efficiently with their digital assets? Book a demo and we'll show you.